JESUIT LECTURE SERIES
Join us for a series of three interesting evenings in February, 2013!
On three Monday evenings, February 4th, 11th and 25th, from 7 PM until 8:30 PM, Fr. Bob Grimm, Fr. Gary Smith and Fr. Sean Michaelson will present talks at the Loyola Jesuit Center, 3215 SE 45th Ave, Portland, Oregon.
The theme of the talks will be "Jesuit Ministries Around The World". We think you will find these evenings very enjoyable. Come and bring a friend.
There is no charge for admission, but free will offerings are accepted. Check our website atwww.nwjesuits.org in January for more information or call 503-221-2313.
----------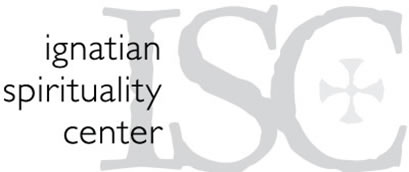 Ignatian Spirituality Center
An Evening with Archbishop Peter Sartain Thursday, February 7, 2013 | 7:00 pm | St. Joseph Church, Seattle
Many of us have read about our Seattle Archbishop in the news, but likely fewer of us have had the opportunity to listen to him in person. Join us in St. Joseph's Church for Archbishop Sartain's personal reflection on God's friendship, wisdom, and love, as found in the call to follow his son, Jesus.

Meaning Making for Men I: Ignatian Spirituality for Men Saturday, February 9, 2013 | 8:30 - 11:00 am | Location & Presenter TBD
ISC invites men of all ages and faith backgrounds to come together for the first of three offerings this Winter and Spring devoted entirely to Ignatian spirituality for men. This Saturday morning will include gathering with coffee and light breakfast, then a presentation on the gift of Ignatian spirituality in "finding God in all things," and time for prayer and reflection on questions such as "Where is God in my life?," "How can I deepen my spirituality in my daily routine and busy schedule?," and "How does my faith guide my relationships, responsibilities and identities as a son, father, brother, partner, single person, friend, boss, employee, colleague, retiree, church-goer, or citizen?" Men of all ages and faith backgrounds are welcome!
Immersions in Ignatian Prayer 5 Tuesdays: Feb 19, Mar 5, Mar 19, Apr 2, Apr 16, 2013 | 6:30 – 8:30 pm | St. Joseph Parish Center
This Lent and Easter, immerse yourself in an experience of Ignatian Prayer! On Tuesday evenings biweekly during these holy seasons, you are invited to learn about and experience a unique form of Ignatian prayer (e.g. Lectio Divina, prayer with imagination & application of the senses, the Examen…), followed by reflection on the prayer individually and in a small group. Each evening session will be guided by a presenter well versed in that particular prayer form, as well as a small group facilitator. Whether you are new to or experienced in Ignatian spirituality, these evenings will be wonderful opportunities to engage in a Lenten/Easter prayer practice that you can integrate into your daily life and prayer. Participants may attend each session independently or journey with a small group throughout the whole series.
SAVE THE DATES!
Novena of Grace 2013: "Finding My Way Home"
Wednesday, March 6 - Thursday, March 14, 2013
12:30 pm at Seattle University Chapel of St. Ignatius and 7:00 pm at St. Joseph Church, Seattle
Jennifer Kelly and Fr. Paul Fitterer SJ, presenters
For more information on these programs contact Andrea Fontana, Program Coordinator, at This e-mail address is being protected from spambots. You need JavaScript enabled to view it or 206.329.4824 x3.
----------

ALUMNI MEXICO MISSION TREK A Global Immersion Program for Jesuit-Educated Alumni Sunday, April 14 – Saturday, April 20, 2013 Tijuana, Baja California (Mexico)
Magis is excited to announce its first ever global immersion opportunity!
Mexico Mission Trek
aims to build a community experience for a group of sixteen alumni who will engage in a short-term service project to build a home side-by-side with a family in Tijuana, Mexico via
Esperanza International
, a non-profit agency which "cultivates global citizenship through international service experiences in working toward a better world." Alumni participants of the
Mexico Mission Trek
will:
• Explore what a faith that does justice means to them, along with social analysis on some of the issues impacting the local community pre-Trek.
• Work together for one week to build a home alongside the community in Tijuana in order to bring about a sense of being men and women for and with others.
• Reflect on the experience of service with each other via a post-Trek gathering and retreat.
Application deadline is January 11, 2013. Cost for the immersion program is $525 (includes pre- and post-trip gatherings, lodging, transportation, site visits, and meals) plus cost of airfare to/from San Diego. Partial scholarships are available. Consider applying with a spouse/partner/immediate family member. For an application, or more information, visitthe Magis Programs page.
Do you have a general interest in this program? If so, e-mail Assistant Director Maria Ochoaand we will gladly add you to our general interest list, or answer any questions.
----------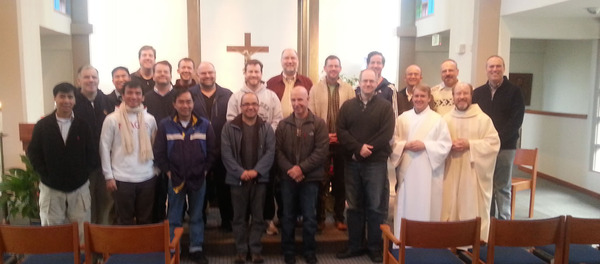 Recently Ordained Gathering, formerly Young Priests Gathering, also known as the Recently Young Priests Gathering, at Archbishop Brunett Retreat House in Fedreal Way, 27-29 Dec2012. Priests and deacons, both provinces A good time was had by all.

Gonzaga University Jesuit Community

Get caught up with the Jesuits
at Gonzaga University Jesuit Community thanks to their new correspondent, Fr. Mike Cook, SJ. His report is chock full of news!
---------

Colombiere Jesuit Community
Sparkling conversations and other news of the Jesuits of the Colombiere Jesuit Community.
---------

Bellarmine Jesuit Community
Bellarmine is proud of its football team, a Jesuit author, and a couple of scholastics. Keep up with the
Bellarmine Jesuit Community
. Also, be sure to click on this link to an article on
Bill Bichsel, SJ's trip
to the Nobel Peace Prize ceremony in Oslo, Norway.

Arrupe Jesuit Community
The community at Seattle University has been busy as usual!
Arrupe Jesuit Community
.
---------

Br. Joe Prince Community
Winter burial in Alaska and other uniquely Alaskan ways of life. Brother Joe Prince Community.
---------

Ravalli Jesuit Community of Montana
December happenings in Montana. Be sure to click the link included! Ravalli Jesuit Community.
---------


Seattle Preparatory School
The Seattle Prep boys basketball team beat 5th-in-nation ranked Rainier Beach in a hard fought battle 59-57 on our home court in December. Prep standout D.J. Fenner hit four three-pointers and scored 16 of his 28 points in the fourth quarter as Prep rallied from 14 points down to beat top-ranked Rainier Beach.
Seattle Prep recently completed our annual Giving Tree charity drive. Students participated in giving in three ways. 1. Donating money to help rural children in China get an education 2. Donating basic hygiene supplies to help the homeless 3. Buying Christmas gifts for the formerly homeless living in Catholic Housing.
Prep continues to make progress toward starting construction on a new building as part of the Building Our Future capital campaign. For more info, click here for our most recent newsletter.
---------



Jesuit High School

Jesuit High School's 44th Annual Food Drive aims to help hundreds of local families during the Holidays. Thursday, Dec. 20, the Jesuit High School Student Center became a food sorting and distribution center, with canned food that reached the ceiling, just more than 15 feet. The JHS student body brought all of the food that was collected over a two-week period and began compiling food boxes for families in the Portland area. Last year, enough food was pledged by first period classes for 480 families. Students committed to the same amount this year.
Congratulations to the JHS men's soccer team who is ranked #3 in the nation according to Elite Soccer Report. Go Crusaders!
On Sunday, December 2, 2012, Jesuit High School hosted the first Portland area Catholic High School Social Justice Summit focused on immigration and human trafficking. Featuring keynote speakers and breakout sessions, the summit educated students in the Portland area on issues of immigration and human trafficking. Students from Central Catholic, St. Mary's Academy, La Salle Prep, Valley Catholic High School, De La Salle, and host Jesuit High School attended the summit. This was a collaborative effort among the schools with students from each school playing a role the program. "It was exciting to bring all the Catholic high schools together to focus on these important issues," said Scott Powers, Jesuit High School's Christian Service Director. "Our voice will be that much stronger united on the side of justice." Students who attended the summit were encouraged to lobby elected officials to pass legislation that will prevent human trafficking and reform our immigration system. Read more about the Social Justice Summit in an article from The Oregonian (12/2/12).