Bro Joe Prince Community
Joe Prince, SJ was a Yup'ik coadjutor (Brother) in the 1920's before the Oregon Province split off from the California Province. Ted Kestler, SJ, Chuck Peterson, SJ, Gregg Wood, SJ, Tom Provinsal, SJ and Br. Joe Prince Community Emeritus Gene Delmore, SJmet at the Novitiate in Los Angeles to make our annual Spiritual Exercises together. Bryce Deline, SJ, a Oregon scholastic, joined his retreat to ours and became a blessing for us
Gregg Wood, SJ found the evening sharing gatherings especially helpful. Our pre-retreat discernment preparations were a great help for him. Ted Kestler, SJ said the experience at the novitiate was "great and wonderful" and Chuck Peterson, SJ was able to engage some novices in conversations after the retreat which were inspiring for him. He took walks up the hill to view the concourse of the metropolis. Tom Provinsal, SJ had as his favorite spot the little gravel park beside the chapel with its artifice of a flowing brook where the birds would often bathe during Mass.
Gregg Wood felt as if the novices "knew us a long time" and that the ordination gatherings of Oregonians and Californians made up "very easy group as if we had all been together awhile." Chuck Peterson had a "sense of the bonding of the Oregonian and California Provinces......a sense of solidarity...which left me thrilled to pieces." He said the "ordination ceremony was outstanding...with good fraternal gatherings.....(and I) talked with people I never met before" The bishop who did the ordination was wonderful and struck him as like "a long lost uncle." Tom Provinsal was happy to be able to share with novices and others the marvelous opportunities that the Alaskan mission offers in the Yup'ik people on behalf of indigenous people everywhere with fresh and creative intellectual ferment going on, the uprising of a precious tradition to be self sustaining socially and economically, and a notoriety unique in the world to affect the handing on of the Universal Faith which is influential for other and many tiny cultures.
Back home Ted Kestler attended the forty day feast in memory of Ed Kelly, a man who was important for the local Church for many years at Saint Marys. This custom, borrowed from the Russian Orthodox, is a feast recalling the Ascension of Jesus 40 days after his resurrection. It includes food of different kinds of salmon, of berry desserts mixed in minced and sweetened white fish, whale meat, barbequed moose, ham, turkey, puffy flat fry bread, and salads, This is followed in the evening with the drums, chantings and dancing with feathered fans full old stories of Yup'ik life in memory of all ancestors with whom they and descendents are one. We hope the Faith to be one day flesh and blood and spirit in the same Tradition.
When Greg Wood came back there was Mass and ceremonial burial of three skulls returned from the Smithsonian Institute which had been taken away in 1928. Though their identities have been lost, they were all three relatively young people. When parishioners had finished and returned to the church an unusual storm hit upon the tundra, initial single drops splashing on the face like small cups of water and the conglomerate cleansing the tundra in soaking wetness. Thunder drummed and lightning transfigured the thickened skies. It reminded the people of the stories of angalquqs (medicine men) or, for us, equivalent to the auguries of Shakespeare.
Chuck Peterson caught a thief in the rectory who has been pillaging the parish of collections and other things the past couple of months. He was bent into the old freezer to help himself to containers of wine. He had somehow gotten a key and has been regularly able to let himself through all the doors. Chuck now knows how to identify him but could only briefly hold him as he himself just got out of midnight bed. He could not pursue and the police were slow to come.
~Tom Provinsal, SJ
---------

Arrupe Jesuit Community
We have had the blessing of a great influx of visitors for the summer—from Togo, Rwanda, Congo, Vietnam, Peru, and even from Rome. All are welcome.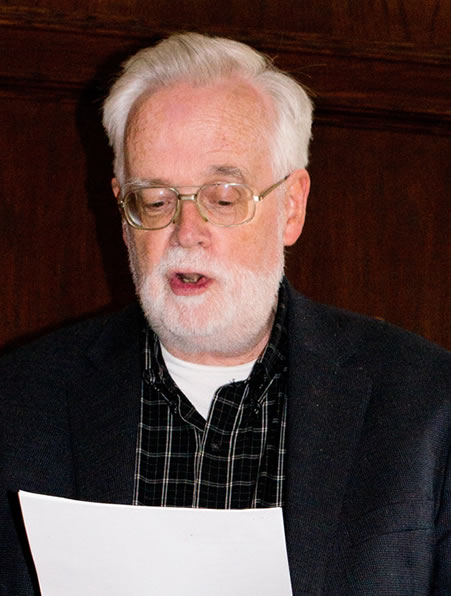 Dave Leigh, SJ, (at left) the current editor of URAM journal (Ultimate Reality and Meaning), has just published the latest volume: Vol. 31 Tibor Horvath, SJ. Commemorative Issue. Tibor Horvath, who died in 2008, was a Hungarian Jesuit who fled Eastern Europe and taught at Regis College at the University of Toronto. Tibor founded the URAM annual conference and journal in 1978. Dave Leigh has been a leading member and contributor since 1985. Besides editing this volume, he has an article, "Tibor Horvath as Teacher, Writer, Mentor, and Creator of the URAM Project." Peter Ely, SJ also has an article in the same volume, "Tibor Horvath: Teacher for a Lifetime." Peter was also a participant at St. John's University, Collegeville, in the Collegium program, sponsored by Catholic universities to deepen faculty members' understanding and grasp of the Catholic Heritage and Intellectual tradition.
Tom Murphy, SJ (NEN) received the welcomed news that his reviews were cited along with other noted viewers at the Catholic Press Assn. awards dinner when America garnered first place Best Review Section, "Books and Culture," with samples submitted including Thomas Murphy, Michael Sean Winters, William O'Malley, Thomas Massaro, Marie Anne Mayeski, and Timothy O'Brien: "Well edited, reviews written with authority and books chosen seem to be diverse and eclectic." Tom has once again landed in London for summer research in the British Archives, and supports his stay by working in a parish.
Newly ordained Trung Pham, SJ (CFN) arrived two days ago to take up his new position as a tenure-track professor in the Fine Arts department.
John Foster, SJ has been in the VA hospital in Spokane for over 10 days with an intractable infection of cellulitis in his upper arm. Though the days are interminably boring, he's pleased with the level of medical care he's receiving. He's most appreciative of visits from Spokane-area Jesuits.
Bill Watson, SJ has successfully launched his Sacred Story program of praying with the examen in six different Seattle parishes, with a warm endorsement and encouragement fromArchbishop Sartain. Several Jesuits from Arrupe helped with confessions made available to all the participants as an integral part of the spiritual journey.
Steve Sundborg, SJ announced that Seattle University was one of only five institutions to receive a national award for "New Landmark Libraries." The university's new McGoldrick Learning Commons/Lemieux Library reopened to great acclaim last year. In other construction news, the $6.5 renovation of Logan field is underway to make it a year-round, weather-resistant playing field for intramurals and softball. In addition to being a continuing board member at USF, Steve is also a new board member at Georgetown University.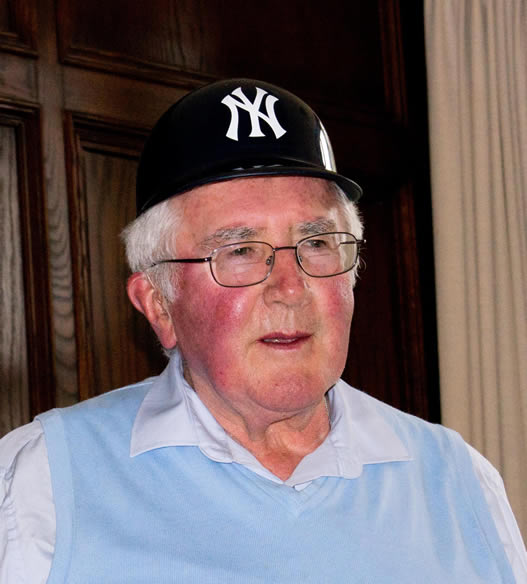 We had a lively, vigorous farewell party for Jean Baptiste Ganza, SJ(RWB), who has completed his MBA, and for Hugh Duffy, SJ (HIB), (at right) English faculty member for the last eight years, as they return to their respective homelands. Talented features included drumming by the four Rwandan warriors (below left, click on the photo for a larger version), a musical original by Four Pat's (an annual hit) (below right, click on the photo for a larger version), and the indomitable occasional verse by our Arrupe poet laureate David Leigh.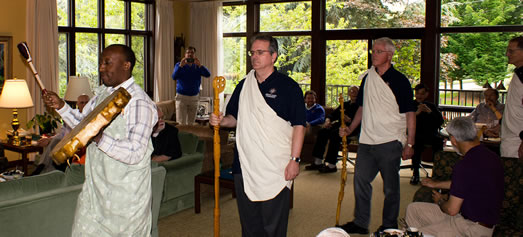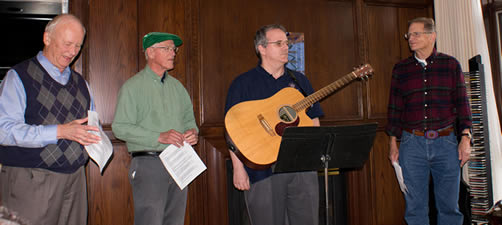 We also said "farewell for now" to Jim Voiss, SJ who now continues his even-handed sabbatical over at Gonzaga U., beginning today, and to Jim Pribek, SJ (WIS) who returns to Canisius College after holding the LeRoux Chair these last three months.
Matthew Pyrć, SJ and Lorenzo Herman, SJ both have assignments in Zambia this summer. Matthew is working on engineering/maintenance projects sponsored by SU, and Lorenzo has an internship in leadership in Lusaka as part of his Masters in Transforming Leadership.
Come visit and brighten our day!
~Pat Howell, SJ
---------

Manresa Jesuit Community
This spring brings changes to the Manresa Community at Gonzaga Prep.
Novice Jeff Bell, nSJ concluded his novitiate long experiment at Prep in May and returned to the Novitiate of the Three Companions in Culver City. Jeff did a great job helping with a wide array of projects including classes in Biology, Theology, and English, student retreats, and coaching Track.
Scholastic Daniel Spotswood, SJ has concluded his second year of regency at Prep and is moving on to Theology studies in Colombia after language study this summer in Central America. Among his other activities, Daniel was very active as co-moderator of Prep's Rock Climbing Club. The club presented him with a great array of climbing gear to take with him to conquer rocky peaks in South America.
Br. Daniel Mayer, SJ, though walking with a cane due to the resurgence of old athletic knee injuries, helped to manage the spring scholastic work detail at the villa at Hayden Lake, Idaho.
Fr. Kevin Connell, SJ has concluded his sixth year as principal of Gonzaga Prep and will be moving to Jesuit High in Portland to teach English and further his work and study in theater. At this year's G Prep graduation, Prep's president Mr. Al Falkner awarded Kevin the St. Aloysius Gonzaga Medal for Kevin's work in Jesuit education throughout his thirty years in the Society. Kevin delivered the homily at this year's June 21 St. Aloysius Mass sponsored by Gonzaga University at St. Al's Church.
After a rather wet season coaching freshman baseball, Fr. Tom Lankenau, SJ accompanied a group of Gonzaga Prep students and teachers to Costa Rica. Tom's portion of the trip (which focused on the study of the flora, fauna, and geography of the area) was made possible through Garco Construction's support of professional development opportunities for teachers at Gonzaga Prep.
---------

Novitiate of the Three Companions Update
The Novices are on the move! The Primi wrapped up the "Golden Months" of the common order in mid-April. They had been discerning where to go for their poverty/pilgrimage experiment, and on April 16th they set out around the US and Tijuana, placing trust in God and encountering the Spirit along the road. Everyone made it back safe and sound, and were eager to share their experiences with each other and the Secundi who arrived from their long experiments a few days after the Primi. All the novices then completed their 8-Day retreat along with three deacons from Mundelein Seminary in Chicago who were preparing for their priestly ordination.
Not too long after the retreat, the Novitiate of the Three Companions was fortunate to have both Father Provincials Pat Lee, SJ and Michael Weiler, SJ stop by for a visit together. Immediately after their visit, the Novices loaded up the cars to head up north to Applegate. It was a wonderful opportunity to get to know the other guys in formation, as well as take some down time away from the Common Ordo. After Villa was over, they returned to the novitiate to begin preparations for the ordination liturgies, especially Rich Magner, SJ's mass of thanksgiving, which took place at the novitiate. The novices are now packing up and getting ready to head down to Colombia for Spanish studies. The summer is sure to have more fun and a lot more movement in store.
---------

Bellarmine Jesuit Community
On May 12, Ken Baker, SJ, a new member of the Bellarmine Jesuit Community, was given a Doctorate in Humane Letters, honoris causa, by Christendom College in recognition of his work as editor of the Homiletic & Pastoral Review for forty years, from 1971 to 2010. Christendom College is a small Catholic College with about 400 students in Front Royal, Virginia, about sixty miles west of Washington, D.C. In his brief remarks at the graduation ceremony after receiving the degree, Ken said that the Church needs more Catholic writers like Belloc and Chesterton and he urged the seniors with such an inclination to develop their talents by starting to write immediately.
---------

Bellarmine Preparatory School
Congratulations to the 169 Bellarmine seniors (about 69% of their graduating class) who were awarded, as of May 15, 244 college scholarships and grants with a combined value in excess of $8.7 million! 98.7% of the 2012 graduating class have been accepted to colleges and universities in the United States and abroad. Among the leading institutions by enrollment are Washington State University, University of Portland, University of Washington, and Gonzaga University.
****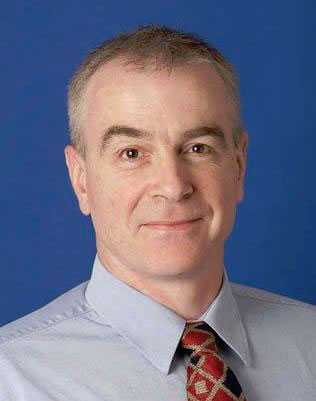 BELLARMINE PREP GRAD TO RETURN AS NEXT PRESIDENT
Following a national search, the Bellarmine Preparatory School Board of Directors announced Robert O. Modarelli III as the school's president-elect. He will become the school's 13th president when current president Jack Peterson retires next June.
Modarelli graduated from Bellarmine in 1982, earned his bachelor's degree from Gonzaga University and master's in East Asian regional studies from Harvard University. He has served on a world stage as executive vice president for the U.S. National Center for Asia-Pacific Economic Cooperation (APEC) in Seattle since 2006. Earlier in his career, he served as a U.S. Army armor officer, foreign area officer and Asia-Pacific policy specialist. His foreign service includes tours in Germany, China and Hong Kong. He also served for a time on staff at the Pentagon.
"We believe Rob will bring his tremendous gifts and talents to enhance our vision of education and the Bellarmine mission," Board Chair Tim Pavolka told the faculty and staff. "The board has great confidence and enthusiasm for what Rob will bring as a proven strategic leader with a strong ability to articulate the Jesuit tradition."
Modarelli has maintained close ties to Bellarmine. He is an Associate Director on the Board's finance committee and has served on the steering committee for the school's long-range strategic plan.
"I'm deeply honored to be offered this opportunity to serve the Bellarmine community as its next president," Modarelli said by cell phone while travelling by train to Moscow. "It's truly a blessing to have the chance to give back in some measure to this special place that has given so much to my family and the wider community. I especially look forward to the opportunity to get to know and serve all the great people that make up this amazing place – faculty, staff, administration and especially parents, friends and our students."
---------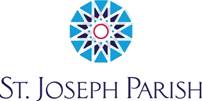 St Joseph Parish, Seattle
It has been an interesting year at St. Joseph, where the struggles of the greater Church have blended with the joys and sorrows normal to a large Parish like ours. But now, as the sounds of the schoolyard are replaced by those of cleaning crews and painters, there is a chance to take a breath and take stock of some amazing things that have happened this year at our Parish and school.
Read more about the year at St Joseph's.
---------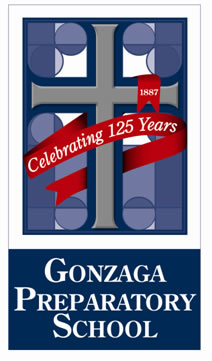 Gonzaga Preparatory School
Gonzaga Prep this spring graduated one of its largest senior classes in many years—a fitting climax to Prep's celebration of the 125th anniversary of the founding of Gonzaga College. This year's 238 seniors were offered college scholarships, grants, and aid with a four-year value of almost thirty million dollars—nearly double what most previous classes have been offered.
Prep's production of LES MISERABLES was huge success with over 1800 attendees more than buying out the Kubiak Theatre for four of the six performances.
Prep's Softball team made it to Regionals for the first time in years and the Baseball team (coached by Gonzaga U. baseball alum, Brian Munhall) made to State playoffs for the first time in 25 years, finishing among the top 8 teams. The Boys Tennis team also qualified for Regional play.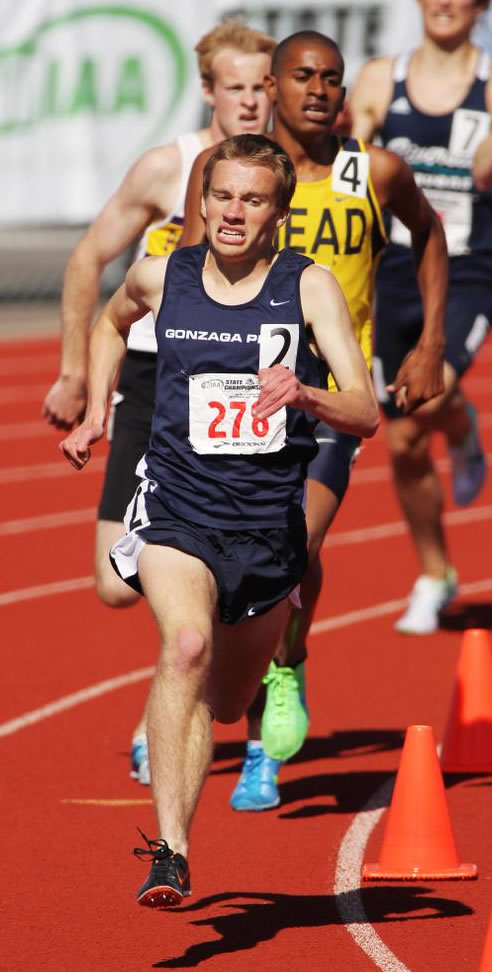 Prep Senior Conor McCandless (at right) broke two long-standing G Prep track records in the 1600 and 3200 meter runs. (One has stood since the 1960's when it was set by Dr. Paul Schlicker, now a retired professor of Literature at the University of Abderdeen who was recently invited to by Queen Elizabeth II to attend a special celebration of the two hundredth anniversary of the birth of Charles Dickens, on whom he is a leading authority.) Conor won the 1500 meters at the Nike Twilight Relays at Jesuit High in May. He missed taking first in the 1600 meters at Washington state competition by just one one-hundreth of a second. Conor will begin studies at Gonzaga University this fall where his father Mac is an architect.
Gonzaga Prep senior debaters did well at the national NFL tournament in Indianapolis. Joe Engel and Will Jaeger placed in the top 30 debate teams in the nation.
The Op-Ed page of the Sunday New York Times on April 21st featured two pieces written by Gonzaga Prep alumni. Timothy Egan's "The Wrath of Grapes" was a humorous article exploring the connections between the effectiveness of US presidents and their use of "spirits," while Bill Hayes' "Plato's Body, and Mine" advocated the importance of balancing physical and mental fitness.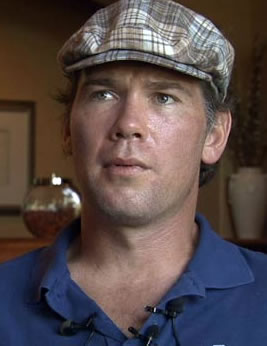 Gonzaga Prep alum Steve Gleason (at left) who lives in New Orleans with his wife and son as he battles ALS returned to Northern Idaho for a golf tournament to support his TeamGleason charity which seeks to raise awareness about ALS and to provide support and services to people living with the condition. The tournament raised almost $300,000.